gypsyrosali reblogged this from airportz
stonevalley reblogged this from airportz
airportz posted this
*AiR stands for my name: Aurelia Isabel Renata* I'm Indonesian and proud to be one. Currently am a preschool teacher,and a dancing teacher too =) In love with dancing since I can move, I'm dancing to express not to impress. 彡☆catch me on facebook☆彡 Seguir a @aurelisabel So this is a port for my fave musics, videos, inspiring quotations from famous to unknown author, to myself writing down when 'weird'beingweird☆Arts☆Photography ☆Abstractions☆And a port for more of my other fave stuffs. The rest are just anything that catches my eyes and mind that I'd like to keep and share it (I do not claim ownership of any of the images posted unless stated otherwise. All materials posted are linked to its creator).
Large Visitor Globe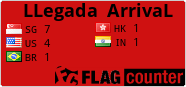 Myspace Flash Toys
Get your own Free MySpace Games!